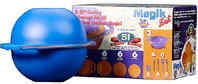 This Magik Picnic Set is a 51 piece set suitable for any outdoor use from your patio to your campsite!
A picnic basket for the 21st Century!
Take your Magik set to the campground, on the boat or on your bike! Made of durable LCS polymer, the Magik Picnic Set is light, compact and shock resistant.
This Magik Picnic Set is microwave safe, dishwasher safe, freezer safe, made of quality LCS polymer, 100% recyclable, shock resistant, laboratory tested, it floats in water, Compact, Blue and orange in color, light weight, portable, and has an auto lock system.

Dimensions: L 14 1/4" x W 10 1/2" x H 9 1/2"

Price: $24.99

Product Number: BL-97702