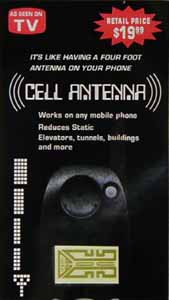 The Internal Booster Antenna is a passive device designed to capture stray radiation in the body of the phone and re-radiate the signal to improve the phone's performance.
Now you can use your cell phone in elevators, car, boat, mountain, tunnel, buildings and more. It's like having a ten-foot antenna on your phone.
Works on any mobile phone. Works on analog, digital and tri-band phones. Reduces static on analog and digital phones.
Works great with any Nokia, Ericsson, Sony, Sprint, Sanyo, Audiovox and Mitsubishi phones.

Price: $ 19.95

Product Number: REX-33613