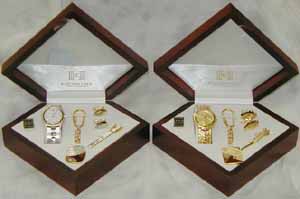 This beautiful set contains a quality quartz watch with a scratch resistant face and metal body and band. Set also has a matching tie clasp, cuff link set and a key chain.
All of this comes enclosed in a solid wood case.
Colors are Gold, Silver and Two Tone. (Two of the styles are pictured).
Your order will be randomly assorted. Batteries may or may not work.

Price: $ 129.00
Item #: JEHB1-BILLA519